The ever-changing social landscape means that sales and marketing efforts need to tweak their focus on a pretty regular basis to stay effective. So where should you focus your time and efforts? The infographic below provides a nice breakdown of the more popular sites and the sweet spot for each.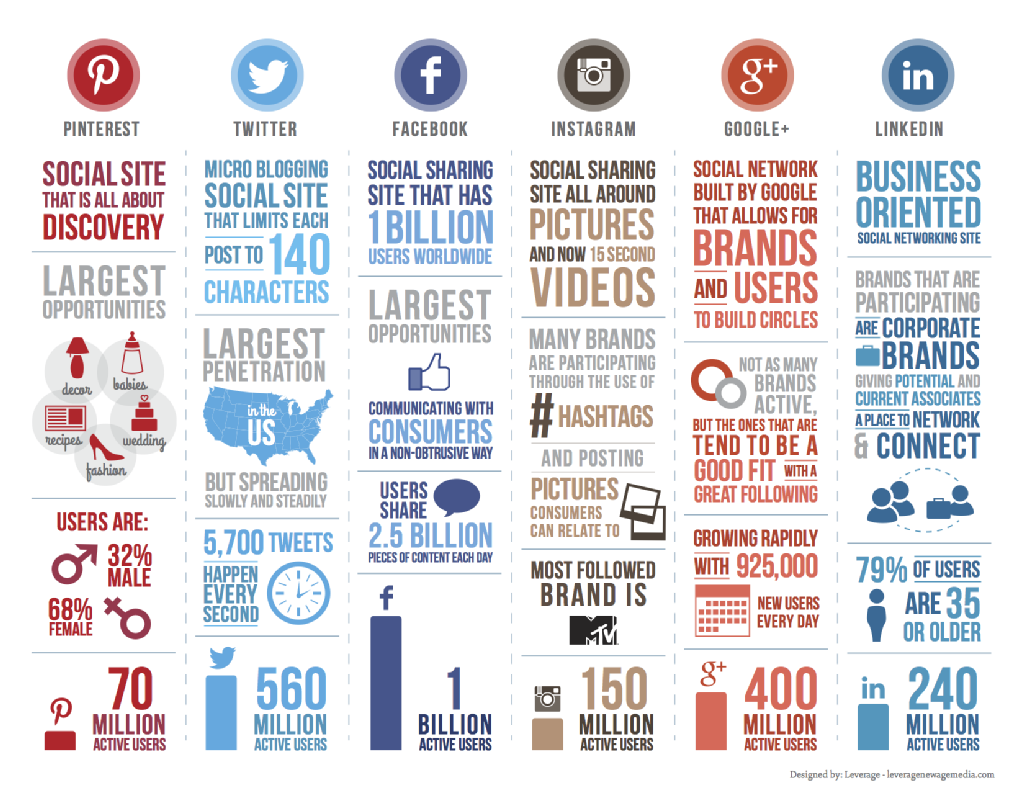 via Leverage.
---
Facebook is still leading the pack with 1 billion users. In a relatively young space, they are the granddaddy. What makes their user base interesting is that 50% of their users fall into the 35-64 year age bracket. For most hotels that is their demographic sweet spot.
Twitter has the next highest user base. The average Twitter user has 208 followers. This site has the best gender equality of all of the sites with a roughly 50/50 breakdown of male/female users. However, women tweet more frequently than men.
Google+ is adding a significant number of users on a daily basis. However, the stat that speaks the loudest is how much time their users actually spend on the site. The average G+ user only spends 3 minutes per month on the site. Compare that to the average 405 minutes per month a Facebook user spends and the value of the network is greatly diminished.
LinkedIn is still the largest business networking site out there. What makes their fan base so interesting is that they tend to be early adopters and over 60% of their members have high personal incomes and 79% are 35 or older. Members are represented in 200 different countries with Latin and South American countries realizing the largest growth in recent years. There is even one member who lists their profession as "Martini Whisperer" and no, it's not me.
Pinterest seems to be catching everyone's eye these days, or at least female eyes. 68% of their users are female. This site allows people to discover more about their passions and connect with others that share those passions. On the down side, the networks are somewhat skewed. The average user has 229 followers but only follows 20 people.
Instagram has become more and more powerful, especially now with the Facebook checkbook backing it. It is a great way for brands to create an image that connects with its followers where they control the content. It's a mobile app with a distinct user demographic. Over 90% of its user base falls into the 18-34 category so if that isn't your target demographic, this site may not be as powerful for you.
---
What's the conclusion of all of this? The obvious one is you need to have a social presence. But if you are trying to decide where to allocate limited resources, ask yourself these three questions:
What is my target demographic?
Does the average age of the user in the social network fit my target demographic?
Can I deliver content that is appealing for that channel?
Each of these networks have specific audiences. Making sure that you are active in the ones that best fit your target demographic will provide you with a better presence and long term, a higher ROI on your efforts.