If you follow our blog, you may recall a piece I wrote a few months back where I dug into the numbers behind advocacy on social networks and what it means for hotels. Two of the primary takeaways from that analysis were that 1) Facebook is really important to your overall online marketing strategy and 2) that relevant content is crucial.
Taking this a step further, if we isolate Facebook, the role that relevant content plays cannot be understated. How and why Facebook presents content the way it does is something every hotel marketer should understand. With that knowledge, you can craft a highly effective content strategy for your property's presence on the largest social network on the planet.
---
Why hotels need a new strategy for Facebook
2011 marked a major shift in how Facebook's News Feed (official name) operated. The original algorithm was replaced with a more "intelligent" one that adapts based on your feedback to content you engaged with previously. For instance, if you showed more interest in posts with photos you would start to see more photo posts higher in your News Feed.
Fast-forward to 2015 and the algorithm has changed—a lot. While still adaptive, it now takes into account over 1,000 different variables when deciding the order of content.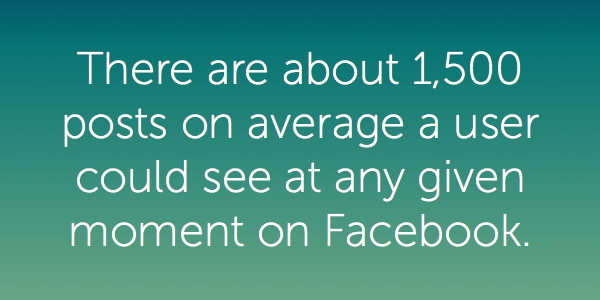 Today's version may even decide some content just simply isn't worth your time and push it so far down into your News Feed that there's little chance you ever see it. According to Facebook there are about 1,500 posts on average a user could see at any given moment, so the task of deciding what you see is big.
Ultimately, Facebook cares about keeping its platform engaging to its users. When it ceases to engage with users, it loses relevancy and people drift away (think MySpace). This means that Facebook has to filter some content from your News Feed so that you're not inundated with stories and so that you don't feel like you're being spammed.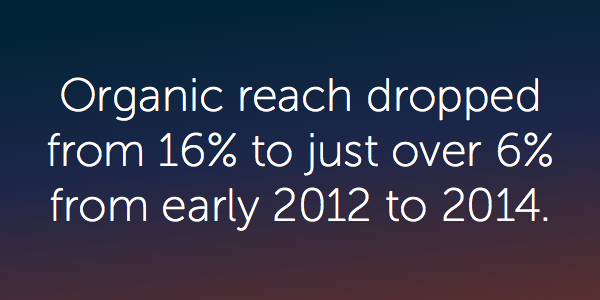 For this reason, organic reach has declined and is getting ever closer to zero. From early 2012 to 2014, organic reach dropped from 16% to just over 6%, and since then it's diminished even more.
Another major contributing factor is called "Zuckerberg's Law": the amount of content you share a year from now will be twice the amount you shared this year. Now consider that Facebook has over 1 billion users and the content those users share doubles every year. Wow. Put in this context it's easy to see why the News Feed algorithm filters content and why organic reach is declining.
Most recently in April of 2015, Facebook announced it would prioritize content created by close friends above all other content in the News Feed. This, combined with Zuckerberg's Law, creates "like inflation." In other words, every like is worth less and less as time goes on. It's a clear signal that strategy needs to shift.
And so the question is this: as a business, how do I get my message in front of the most people possible on Facebook?
The new content strategy: tapping into the right audiences on Facebook
There are two audiences you can tap into on Facebook that will allow you to work within the boundaries of Facebook's News Feed while also leveraging its rules to your benefit: your own and your guests'. We'll start with your homegrown audience—those that have "liked" your Facebook brand Page.
Your Followers
5,000 likes does not mean you have 5,000 engaged audience members. As part of your digital strategy it's important to take this into consideration.
When you share something to your existing followers, Facebook will select a very small subset of that audience and display that content to those people. It chooses based on the prior behavior of followers that are likely to engage with your content (like, comment, share). If the content performs well, it will do the same to another small subset, and this repeats a number of times before it eventually stops. The odds your post will be seen by your entire audience is slim (to not a chance at all.)
Other considerations (Facebook looks at over 1,000 variables) include some of the following:
Is the viewer interested in the content creator?
How has this post performed amongst other users?
How has this creator's content performed in the past?
What types of posts does this viewer prefer? (e.g. image rich, posts with links, etc.)
How new is the post?
As a hotel, this means that you should always strive to have relevant, timely, and engaging content. No more Turbinado Tuesdays or Shar Pei Sundays. Stop doing that.
If TripAdvisor has taught us anything, it's that people like to hear and see what other people's experiences were like at your hotel. If you're capturing guest feedback and pictures from their stay then that's the sort of content that you should be sharing on Facebook. Let your audience see what other travelers just like them are doing at your property.
They'll imagine themselves enjoying an amazing dinner on the waterfront, or a cocktail on the rooftop with an amazing view of the skyline. It's one thing for you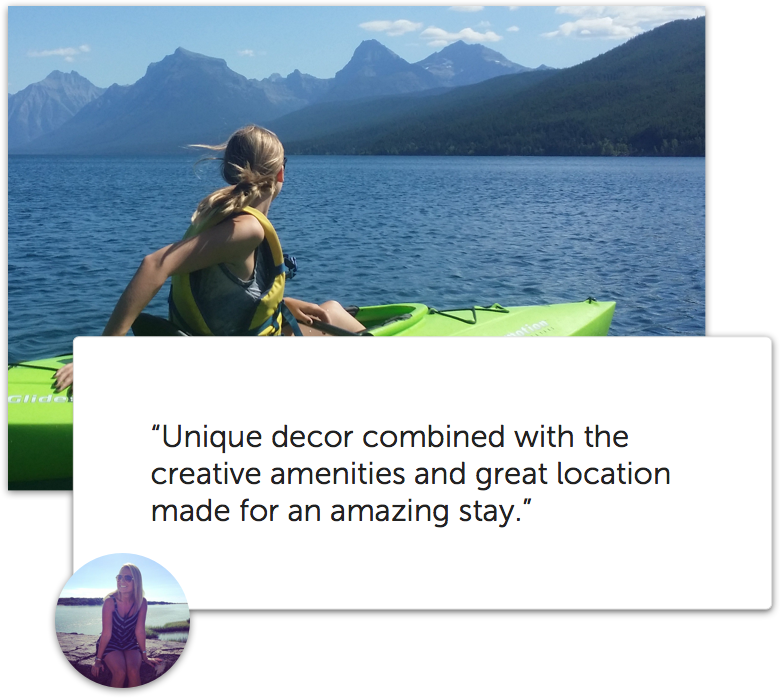 to say it's great. It's something entirely different for your guests to show others how great it was for them.
Relevant content amplifies your reach in two ways. First, more people will see your content if the people that first see it also interact with it. This means that every like on a guest photo you've shared boosts that post's News Feed value.
Second is that with interaction comes sharing. Your reach grows tremendously when your audience shares that photo you've posted. When a photo is shared by one of your followers, it will rank more highly in the News Feed because it's coming from a person and not a brand, as well as because it's demonstrated that it has value. As you'll soon see, quality content has a powerful ripple effect that works in harmony with News Feed's algorithm. Spammy and unengaging content will do the opposite for your brand which is why I can't stress enough the importance of distancing your hotel from those sort of posts.
Your Guests' Network
Every person that comes across your brand has an audience of their own. Collectively these people represent a massive opportunity for exposure to your brand.
In my opinion, this is also the most underutilized aspect of social media, especially because companies have approached it very awkwardly. And Facebook agrees. In August 2014, Facebook enacted a policy change that ended the practice of incentivizing users for likes and fan-gated sweepstakes/contests. Facebook is keen on keeping its audience engaged, and they recognize that these sort of gimmicks only drive temporary interest and not long-term engagement.
For hotels, this underscores an opportunity to incorporate advocacy.
By encouraging your guests to share their experience with your brand over Facebook, you enhance your own reach in a way that leverages the News Feed algorithm. For one, we now know that brand content is deprioritized in the News Feed and content from close friends is pushed higher. In addition, based on what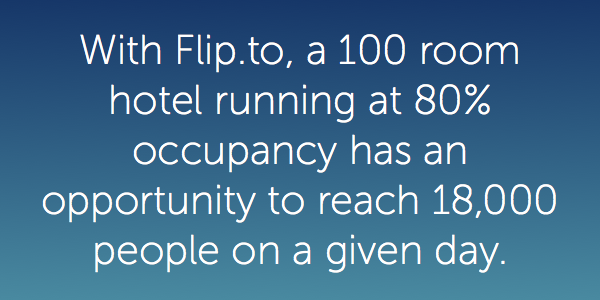 we've seen on the Flip.to platform, each guest represents about 225 social connections.
Now, take the number of people coming through your door to stay with you on a given day. Do the math. A 100 room hotel running at 80% occupancy has an opportunity to reach 18,000 people on a given day.
How does this compare to the number of likes you have on Facebook right now? Then consider that your own content is only reaching a small percentage of your own audience. It's like swimming upstream.
Your guests > Advertising
Facebook currently has around 2 million advertisers spending money to ensure their message is seen by the right audience.
For a hotel, the right audience can truly mean like-minded individuals connected to the guests who've booked a room. With the competition for News Feed space increasing so rapidly, it's crucial that hotels reach a wider audience who are more inclined to engage with their content.
Encouraging guests to share their stories not only gives hotels that reach, it makes a more trusted introduction to the brand. This is a far more harmonious interaction with the News Feed and a stronger long-term strategy for social marketing.
---
Over time, take note of which types of posts performed the best in terms of overall engagement. A digital strategy should and must evolve over time to adapt to a rapidly changing dynamic. Does your audience favor images over text? Do guest reviews tend to drive more comments? Do guest pictures of your swimming pool result in more shares and likes?
Don't be afraid to experiment when it comes to user-generated content because on the whole your customers have more influence than you do which is exactly what the News Feed is looking for.