When you use the term "reach" in social marketing, you're probably referring to level of social connection measured in followers—for example, your hotel's network of fans. Other times, it may also mean the number of users touched by a paid campaign, from social ads to remarketing and the like.
And these aren't bad things—your hotel's social channels are just another way for guests to subscribe to your content and for you to promote your hotel. Nurture this audience by providing relevant and timely content to keep them coming back. (Read more on why great content is a really good thing.)
However, there are some obvious shortcomings to social if the above describes your hotel's only approach. Here are two:
You're limiting your opportunity to reach a new audience by solely communicating with your existing followers.
Your content is de-prioritized so only a fraction of your existing audience will see it and have the opportunity to engage.
So even if you've built a great base, growing and reaching new followers is a challenge. Facebook has dramatically limited organic reach, and as mentioned above, marketers must resort to paid to get exposure to their own fans, as well as have the opportunity to reach new ones.
Or do they? It's time to rethink reach.
The new opportunity to grow.
The key is to rethink your approach to social. Rather than a house for your content to live, think of your social channels as a distribution vehicle instead—and your guests are in the driver's seat.
The landscape of social for hotels is constantly changing. There are challenges in the ability to see measurable results and the limitations introduced by many of the large social networks have made it even more difficult for hotels to stay relevant. So where can you get real value? The key is to rethink your approach to social. Rather than a house for your content to live, think of your social channels as a distribution vehicle instead—and your guests are in the driver's seat.
On average, travelers have about 225 friends and colleagues in their social networks. While that may initially seem small, consider the number of guests that visit your hotel. Multiply that by 225, and it's not hard to see the enormous, untapped opportunity to grow your reach, every single day.
This potential can even exceed that of your existing marketing efforts—with one key difference. This reach leads to new introductions to your hotel coming from a familiar face of someone they know, making the interaction more engaging and far more trustworthy than paid ads. (More on that below.)
Here's a real world example.
Since joining Facebook in 2009, Caribe Royale Hotel & Convention Center, an all-suite property in the heart of Orlando, has built a following of well over 10,000 fans. This is an outstanding audience who are opted-in, and Caribe Royale do a great job of providing engaging content like real guest stories and candid experiences of their hotel.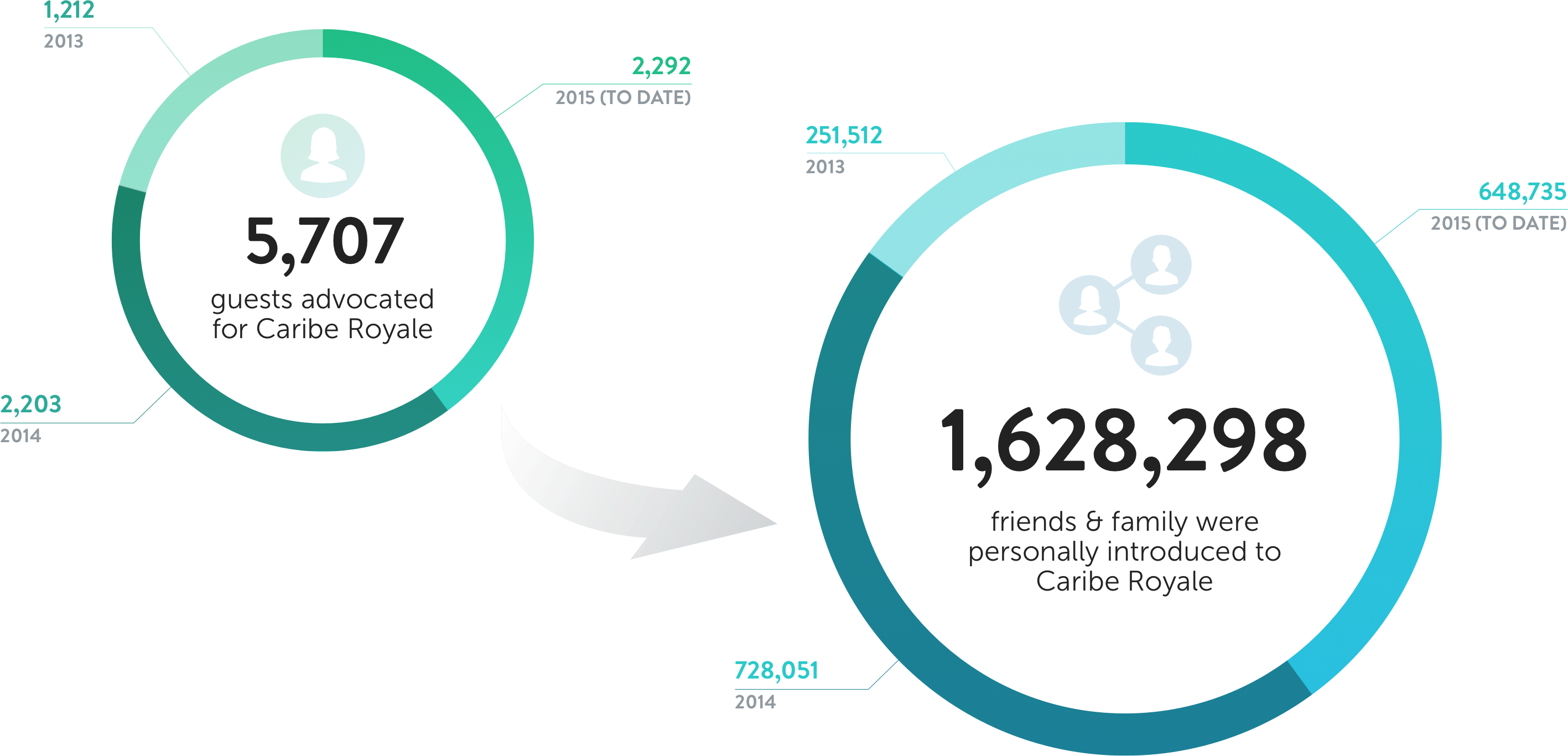 But what happened when the hotel started asking its guests to be the promoters? In the last 3 years with advocacy, they've reached a potential audience of over 1.6 million people. That's a new audience 160x larger than their existing fanbase on Facebook!
Since each guest is sharing to their own network, the hotel is not only reaching a new audience of future travelers with every advocate, but the content also has a higher priority.
Quantity, meet quality—when reach and trust combine.
What's even better than multiplying your reach by a hundredfold? Every person in that new audience learned about the hotel through an authentic story from a friend or colleague—someone they know and trust.
In fact, a recent study found that 63% of travelers worldwide rate friends and family recommendations as a top influence when selecting a vacation destination. The case is even more compelling when you consider that 92% of travelers worldwide say they trust earned media above all other forms of advertising.
Did I also mention that these networks tend to be full of like-minded individuals with similar travel and purchasing habits as your hotel's advocate?
With advocacy, your hotel's reach is not only at a massive scale, but the quality of these 1-to-1 brand introductions can't be achieved any other way.
Interested in learning about how you can go global? Give one of our certified advocologists a shout.