The cliché, "an image is worth a thousand words," actually has a lot of merit to it. Studies have shown that images communicate a lot more than words in a lot less time, while triggering emotions and being easier to remember. As the web has grown to be more visually stocked, your guests are expecting a visual experience when they interact with your brand.
There's just one disclaimer: your images need to be relevant to travelers at every point along their purchasing journey. Google has helped hoteliers make sense of the incredibly complex traveler's journey, organizing it into what they call "micro-moments"—when people turn to a device with intent to answer an immediate need. (Thanks, Google.)
Here's how they break it down:
Dreaming Moments
Planning Moments
Booking Moments
Experiencing Moments
Creating content that appeals to travelers in each moment provides your hotel a massive opportunity to win their business.
Here, we'll explore the types of visual content to serve travelers when they're in each micro-moment described above—and you'll be on your way to a building a library of content and a relevancy goldmine.
Dreaming Moments
Dreaming moments are when people start thinking about wanting to get away. Here's your chance to truly inspire travelers.
According to Google, 83% of travelers say social networking, video, and photo sites are their number one source for travel inspiration. Your homepage is an excellent place to inspire travelers, as well as social media content—the advantage here being a light lift and something your hotel can start doing immediately.
Take this Instagram post from Adrift Hotel & Spa. It's a perfect example of the type of content travelers are looking for when they're primed to be won over: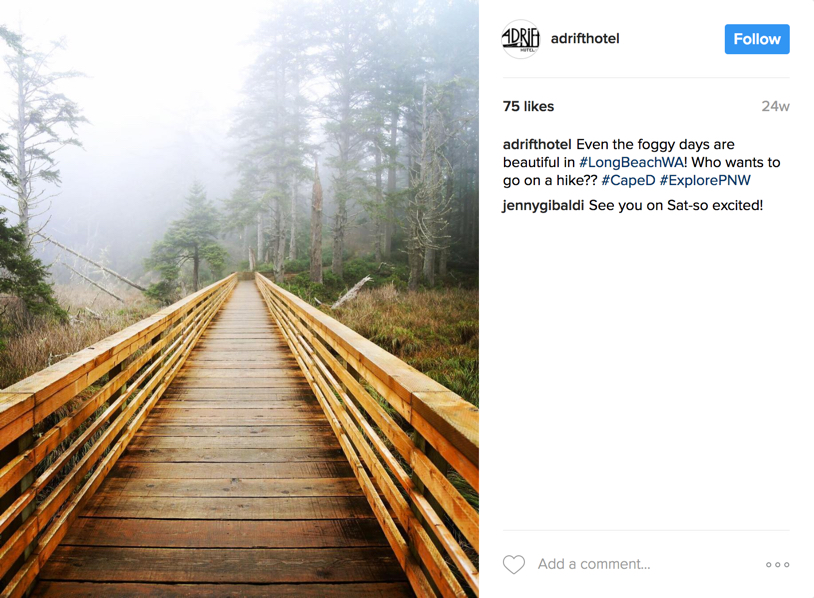 An eye-catching photograph and the use of strategic hashtags like #LongBeachWA make this photo discoverable by travelers dreaming of getting away to the Pacific Northwest.
There are some things to keep in mind with content that's targeted for travelers in this phase of their journey. The first is to avoid using overly branded content or making presumptive asks like "book now."
Also, stock photos should be kicked to the curb in most phases, but especially at this moment. Authenticity matters and a canned image can easily leave an uninspiring first impression.
Planning Moments
At this point, travelers have an idea of where they want to go, but still need to make up their mind on where to stay and what to do. As a hotel, your aim is to make it on the shortlist of their top places to stay, and now it's time to convince them you're the best option.
Use photos to focus in on the unique selling points of your hotel, weaving in real guest stories where possible.
For Adrift, this might include sharing images of The Pickled Fish—a quaint beachfront restaurant located on the top floor—or the complimentary beach cruisers on their hotel's web gallery.
With a quick visit to Adrift's gallery or Facebook page, you'll know it's a haven for dog (and cat!) lovers. Not only does a post like this one perk the curiosity of a casual onlooker, it's telling a richer story for the property.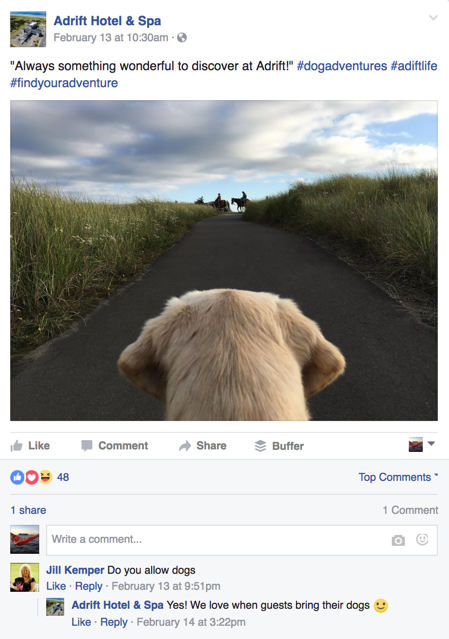 Booking Moments
Yes, the moment of booking!
Here's when traditional room photos come in handy. Feature images that are relevant to the accommodations that are being booked and ensure that these images are consistent with other areas of your website. The last thing you want someone to do at this point in their journey is feel like you've given them false information.
Be mindful of the amount of visual content that you use here. The goal is to get guests through the booking process, not distract them.
Experiencing Moments
Experiences are what travel is all about. These are the moments people cherish and are the ones they'll want to relive and share with friends & family.
If a pre-stay email is part of your communication strategy, here's the perfect opportunity to sprinkle in some richer imagery to build excitement for what your soon-to-be guests have in store. Highlight authentic guests stories, local events and businesses, and invite them to join the conversation on your social channels so they can continue to be inspired.
Once they're on property, invite them to take part in the local community with thoughtful touch points and social shares. Here's one from Adrift, inviting guests to visit one of their favorite suppliers—a local soap company.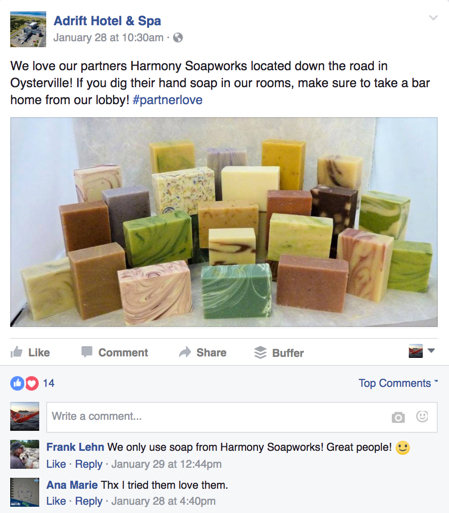 ---
The right image at the right moment can make all the difference on a traveler's purchase decision. Relevant content in your communication with future, current and past guests is the key in capturing, nurturing and retaining lasting relationships for years to come. And that is what hospitality is all about.