At Flip.to, we're big believers in taking hospitality marketing to a new frontier. We share in celebrating experiences from travelers around the world, and work with folks truly passionate about providing top notch service at incredible destinations.
Somewhere, travel marketing got away from all of that, at the expense of hotels and travelers alike. So we set out to make things right.
Polished product aside, we knew this wouldn't be a project we'd undertake alone. Nope. This would be an all-hands call with the goal of threading together perspectives from the best in the hospitality industry (and beyond) into a new fabric that defines great marketing.
That's a pretty lofty task. So where did we start? Naturally, we called a few friends.
INFLUENCER LABS WERE BORN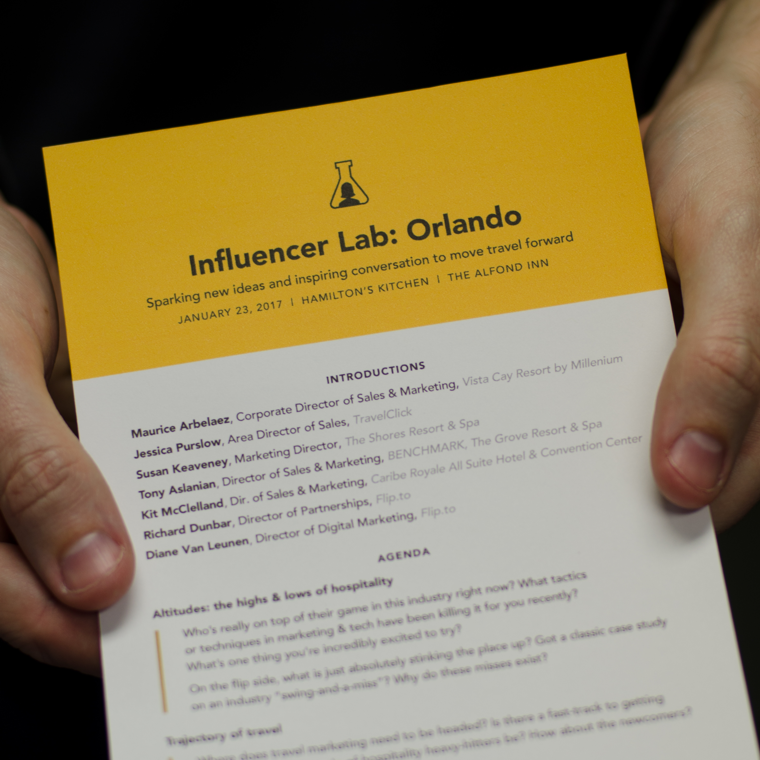 The idea for the labs was pretty simple. Invite some of the brightest minds in the local community to share their thoughts, spark the conversation, and then let it meander wherever our thought-leaders take it.
Ultimately we landed on very small, by-invitation events held with industry insiders on how to move travel forward—the type of honest conversation that can only happen in an intimate group of smart folks.
From broad topics in marketing, to a "mission to Mars" Elon Musk-style discussion, the groundwork was laid.
THE PILOTS: WHERE CONVERSATION TO MOVE TRAVEL FORWARD ALL BEGAN
Next up was to get the labs off the ground. To do so, we narrowed down three cities from coast-to-coast to be our experiments. And to fuel great conversation, we hosted dinner & compelling dialog with top minds in travel.
Influencer Lab: Orlando
The Alfond Inn
The good company:
Maurice Arbelaez, Corporate Director of Sales & Marketing, Vista Cay Resort by Millenium
Susan Keaveney, Marketing Director, The Shores Resort & Spa
Tony Aslanian, Director of Sales & Marketing, BENCHMARK, A Global Hospitality Company
Kit McClelland, Director of Sales and Marketing, Caribe Royale All Suite Hotel and Convention Center
Jessica Purslow, Area Director of Sales, TravelClick
Hosted by:
Richard Dunbar, Director of Partnerships, Flip.to
Diane Van Leunen, Director of Marketing, Flip.to
The biggest takeaways:
An all-Central-Florida cast and crew, this inaugural lab is where it all started. (In our hometown, no less.) Our influencers honed in on what matters most—beyond technology, marketing, and everything else—hospitality.
Hoteliers consistently go above and beyond when a guest is on property to exceed expectations. Now it's time to take that same passion everywhere else: like your marketing, digital experiences, communication before and after the stay, and more.
Why? Sparking conversations and building relationships is at its heart what this industry is all about. So make sure that no matter how you're interacting with your guest, that's the intent that shows through.
Influencer Lab: Myrtle Beach
Travinia Italian Kitchen
The good company:
Alex Husner, CMO, Condo-World
Pete DiMaio, Director of Client Success, Fuel Travel
Matt Klugman, DOSM, Vacation Myrtle Beach Resorts
Patrick Norton, VP of Sales & Marketing, Brittain Resorts & Hotels
Josh Williams, Digital Marketing Director, Visibility and Conversions
Jacob Smith, Marketing Manager, Sandy Beach Resort
Jay McLaurin, Market Manager, Expedia
Hosted by:
Richard Dunbar, Director of Partnerships, Flip.to
Stuart Butler, COO, Fuel Travel
The biggest takeaways:
In Myrtle Beach, the market knows that to win travelers, you must first win them for the destination. After all, if you're bidding for someone that wants to head to say, New York, and you're in Myrtle Beach, they're not likely booking your property anytime soon.
Taking this to heart, Myrtle Beach has become the example of "a rising tide lifts all boats," working collaboratively from the ground up. And it's been a win-win-win: for the destination, for their properties, and for the travelers.
The takeaway? Working together matters—and even promotes healthy competition—thanks to a healthy market.
Influencer Lab: Seattle
Edgewater Hotel
The good company:
Andrew Assante, Vice President Business Development, VR Cinematic​
Meredith Mara, Vice President, Sales, Coastal Hotel Group
Lindley Ferris, Vice President Marketing and Account Services, GCommerce
Frances Somers, Senior Marketing Manager, Content & Voice, Amazon Restaurants
Brent Lindberg, Principal and Founder, Fuseneo
Jenny Bullock, Senior Marketing Manager, Strategic Partnerships, Expedia, Inc.
Hosted by:
Diane Van Leunen, Director of Marketing, Flip.to
Raul Vega, Senior Director of Sales, Flip.to
The biggest takeaways:
Looking beyond our industry is a must. As shown by the diverse set of backgrounds who joined us at this lab, our industry should constantly be looking outward for ideas on better serving travelers.
So, where do you start? Consider that no matter the path-to-purchase, in every industry it's all about anticipating the needs of people, and better serving the personal needs of those people at every step along the way. And at the end of the day, people want to be inspired, not sold to.

2019: TAKING INFLUENCER LABS WORLDWIDE
It was obvious from the pilot labs that something was sticking. And we knew that it was time to take this type of conversation to a larger scale.
So, back to boldly taking hospitality to a brand new frontier… 2019 has a ton in store, with labs lined up across the country and around the globe. In fact, the first few are already taking shape:
Influencer Lab: Montego Bay
Influencer Lab: Denver
Influencer Lab: Maho Beach
Be on the lookout for more to come from each of these regions, with lots of opportunity to join the conversation. Collaboration and bringing new ideas to light are musts in order to set a new course and move travel forward, together.