Managing your hotel's website can be a big undertaking. It's a task often taken on by many team members, and sometimes many departments. There can be a lot of moving parts and pieces, and thankfully there are some great tools out there to help you get the most out of it—analytics, user trend tracking, content management systems, and great hotel booking engines.
But what's "under the hood" doesn't account for the compelling visuals and content that makes your site tick, (and grabs a visitor's attention.) And with a number of people involved, this can mean the ability to make enhancements doesn't always move as quickly as you'd like.
So what can you do right now that will make a difference?
Here are some things you can do that will improve the experience on your hotel website, and don't require a website overhaul to get them done.
---
1. Give your website some personality
Hotels are often beautifully designed. From plush room accents to swanky public spaces, a lot of thought went into crafting an artful experience for your guests—and you want to show that off. But keep in mind your hotel has personality that extends beyond the manufactured décor that lines interior and exterior walls.
Hotels are brought to life by people. The experiences your guests encounter and the stories they share aren't manufactured. Instead, they're the authentic, rich memorable moments captured at your hotel. They're all part of your hotel's story, and provide the most candid insights into your hotel that resonate with future guests.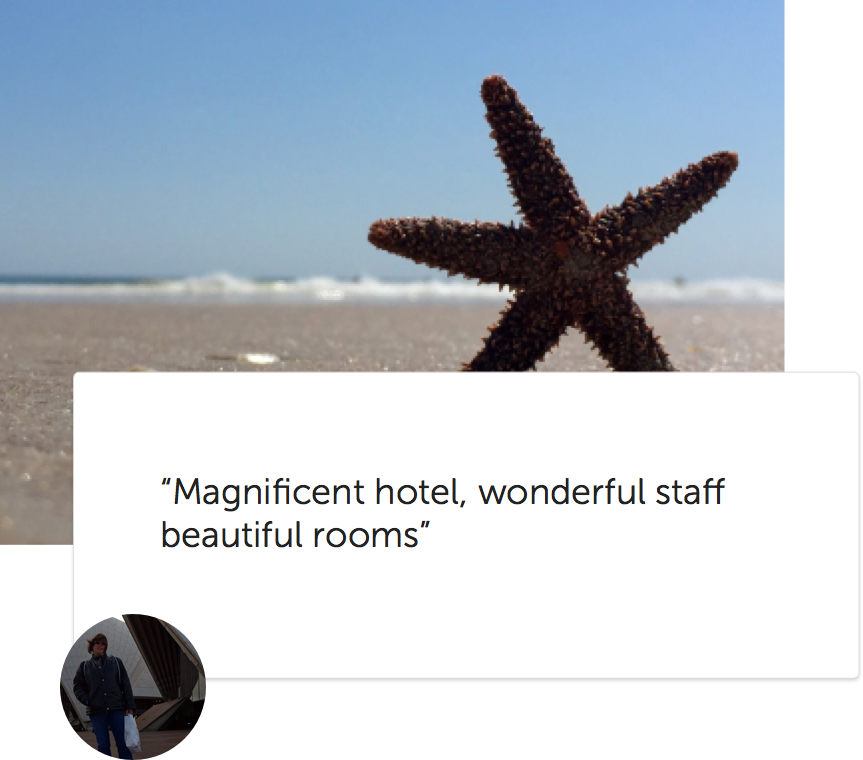 The best and easiest way to start adding personality to your website is by including photos of the genuine experiences your guests enjoy while staying at your hotel. Research from Psychology Today reveals that consumers perceive the same type of personality characteristics in brands as they do in other people. Potential guests will envision themselves sharing in these experiences when they see photos of real people, and not only lifeless spaces. Infusing this distinct, unique, experiential content is the first step in helping convert curious on-lookers into future guests.
You may be asking, "What does this content look like?"—bringing us on to our next topic.
"Storytelling is like a vitamin. When it gets into your readers, it permeates their whole being, and fights every objection that might otherwise stop them from becoming loyal customers." – Neil Patel, Entrepreneur, Angel Investor, and Analytics Expert
2. Build content that speaks to your guests
Start by defining personas
More than likely, your hotel is made up of a few different types of guests. Developing content with your guests' personas in mind creates strong initial brand connections from the first time they encounter your hotel—usually online. In the long run, delivering these unique and personal messages on your website will have a measurable impact—more bookings, better performance, and a change in whatever metric you might be testing against.
Since you probably already have a clear idea of who your guests are, start by writing them down. Ask yourself if you have content that attracts and engages these personas. What brand stories still need to be told?
Take for example a hotel in our Orlando neighborhood. Since local attractions for families are a big reason to travel here, most hotels in the area have content to support that. But that message doesn't resonate with culture seekers or foodie travelers—why not speak to those potential future guests about the brand new performing arts center located right in the city center? Or the rich dining experiences from the number of James Beard featured chefs in town?
This is where user-generated content has extraordinary value. Not only is it the best way to source timely and relevant content that speaks to all the different types of travelers for your hotel, but it does so in a way that is authentic, personable and trustworthy. The travel stories that your guests share enrich your own hotel's narrative.
Consider Where Your Guest is in the Booking Cycle
In the example above, we defined your guest's persona by their travel preferences. But that's not the only thing to consider when evaluating your hotel's content. Where your website visitors are in the travel-buying cycle is critical to being able to spark the right conversation.
Analyses from Google's The 2014 Traveler's Road to Decision shows that when researching travel in the early stages, destination related terms dominate search. This drives home the fact that hotels need to sell the experience as much as (if not more than) the hotel itself. Reaching and inspiring potential guests during the early stages of travel planning is where hotels can truly win, influencing their decision to stay and book directly when it comes time to buy.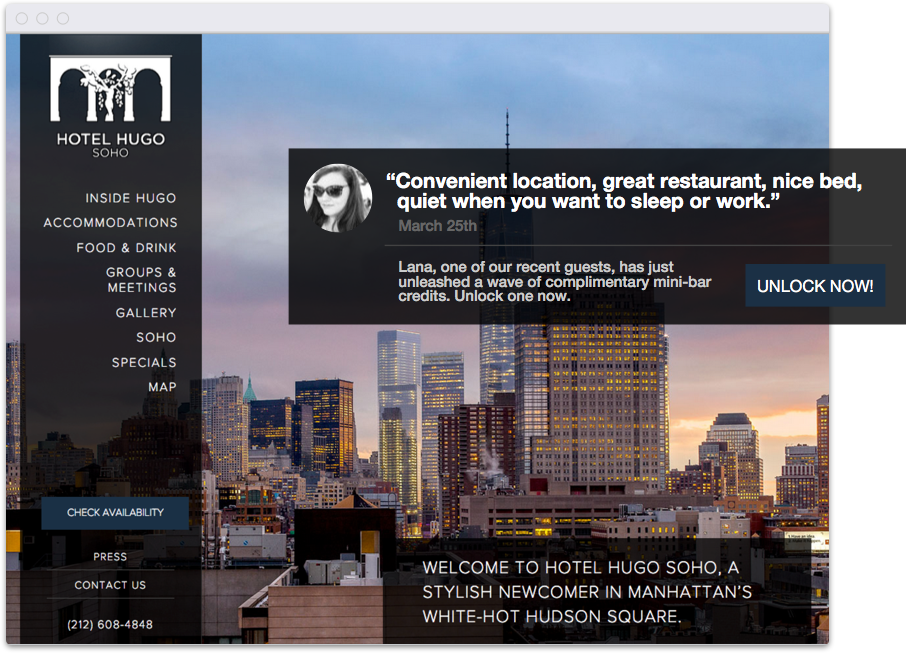 Other content that is particularly influential to drawing travel inspiration includes recommendations from friends and family, and online travel videos, so be sure to infuse this content throughout your site.
Also consider that curious on-lookers who visit to your website early in the decision making process may not be ready to 'book now'. It's important to engage this type of visitor in a different way than someone who's ready to purchase. Flip.to's Homepage Component is one example of how to do so effectively. By pairing a short, curated quote from a guest with a different call-to-action, the visitor may sign-up to lock in an incentive on a future stay. Later, when the visitor is ready to book travel, they have a placeholder saved in their inbox. For the hotel, an anonymous web visitor has now become a warm lead who they have the opportunity to engage further.
3. Be Local
Why do guests travel to your area? Is it because you're located in the heart of a tourist epicenter, perched on the foothills of the Smoky Mountains, or have a special event in town? Start digging into what motivates your guests and use that to your hotel's advantage. Over time, you'll identify trends, letting you stay ahead of your guests' activity.
Keep a pulse on the local heartbeat. Ask guests and locals, or use online sources for inspiration. Event hubs such as Eventful or Eventbrite house a ton of local activity, as well as resources including local newspapers or state tourism websites. Plus, being involved in your local community lets you be involved in making memorable experiences for guests. Again, weave this content into your site to make sure your potential future guests know and are excited about it during their stay.
ACME Hotel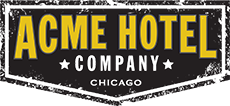 in downtown Chicago is an incredible example of how to tap into the local scene. They're located right in the middle of River North—home to hundreds of Chicago's hippest eateries and nightlife.
Creativity, innovation, and self-expression are key to their guest experience. They continually work with local artists to bring personality and richness to their hotel. One of their latest initiatives is the ACME Intsa Gallery—a pop-Up art display featuring photos from some of the most admired local photographers on Instagram. Meant to inspire guests, it also brings a real sense of authenticity to the property.

This is just one piece of their larger effort to work with local and aspiring artists every day, all of which is infused throughout their website and serves as a key attraction for travelers to the hotel.
4. Check your rates and offers
Sometimes there are so many things to juggle that you might miss this obvious but crucial mistake—ensure you're not presenting multiple offers that compete with each other on yours site. If offers are posted in different pages, try to tie them together so there is consistency and flow, and also to prevent confusion on the part of the guest.
When visitors are on your website and see a different offer (either better or worse) on different pages of the site, they may start to wonder if they're really getting the best deal. By the time they've decided, the guest may not even be able to find the offer they really wanted.
Keep them limited, relevant (personas!), and consistent.
5. Don't erode your brand
To build on the above, be wary about the offers you extend on your site, as well as how they are presented to potential guests to avoid brand erosion.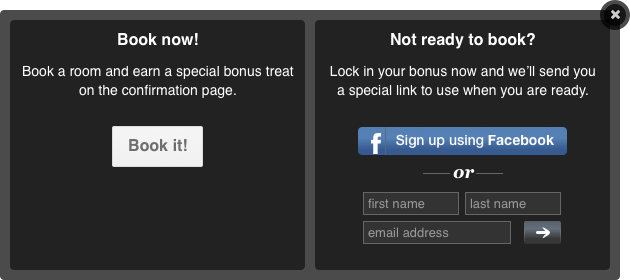 Consider having visitors sign up for an offer instead of having them live permanently for any visitor to use. Your hotel will begin to build a database of warm leads, and can follow by nurturing them down the path to becoming a future guest—all while maintaining the integrity of your brand.
Again, Flip.to's Homepage Component helps our clients protect against brand erosion in this way by offering discounts only to guests who sign-up. This creates exclusivity for guests who unlock the offer, and provides the hotel with the right information to spark real conversation and influence them to book directly in the future.
Another way hotels can maintain brand integrity is by offering value-adds instead of discounts on room prices. With a value-add, you're not just giving something away. Instead, you may build it into the cost of the room. If you've defined your guest persona(s), you'll know what appeals to your guests and why they love your property. Consider creating value-added packages that incorporate elements of their persona into the room rate.
Let's say you have a hotel in Wine Country. Many guests selected your hotel in part because of its incredible location. Since you're "being local," include tickets for an excursion in the room rate to one or two of wineries your staff personally recommends. Or, offer a couple's getaway for a weekend and include a bottle of wine with the room. This is a great opportunity to get creative and get your guests talking. By using a value-add in this way, you're building brand affinity and staying consistent with your guests' perception of your brand.
6. Get social
Alright—we know this isn't your website, but it's often the next biggest digital channel where you speak to your guests, and we know that your guests are on social media. Hotels often use social media as an advertising channel instead of an outlet to build their brand, reach users and engage audiences—there's nothing really social about it.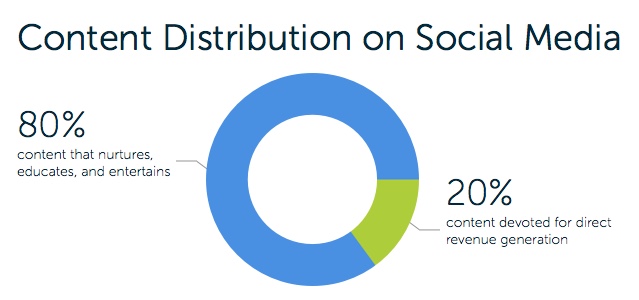 When it comes to content distribution on social media, use 80% of your content to nurture, educate, and entertain guests. The other 20% should be devoted as an avenue for direct revenue generation. You know that really great, user-generated content we talked about infusing onto your site? Well guess what—this is the perfect content to repurpose for your social media. It's timely, and most of all it's relevant to the audience of followers and fans who've opted in to hear more about your hotel.
6 ½ Tech matters
This last (half of) one is something that's easy to take for granted, but is important.
Do a "sanity-check" on a regular basis to make sure everything's working how it's supposed to—links aren't broken, your booking engine is running smoothly, dates and room criteria carry through searches, images are displaying properly, and more. There's no greater reason to abandon and use a third-party than when it's difficult to walk through the booking process. When glitches happen, be the first one to expose them and get them fixed. It'll save time (and headaches) when you manage the process regularly.
---
A strong digital strategy has countless moving parts. With a small amount of effort, you can make a difference on the performance of your hotel's website right now. Be strategic with your changes to see even more impact, and start with these takeaways to put your hotel down the road to success.
Your hotel's personality is a built from your guests' experiences—show them off!
Understand the booking cycle and have content that speaks to each stage
Build relationships in your local community to help craft your guests' experiences (and enrich your hotel)
Be aware and steer clear of competing offers that cause brand erosion
Focus the majority of your social efforts on building relationships with potential guests instead of selling to them
Do regular "sanity checks" on your website's technology and performance
What changes have you implemented that have helped move the needle for your hotel? Let us know! Your insights guide us to continue to create great content that makes a difference in your day-to-day. Reach out, or discover more.