Advocacy becomes a foundation of Caribe Royale's marketing strategy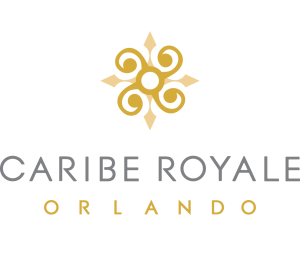 ORLANDO, FL — December 2, 2015 — Caribe Royale, a Flip.to customer since 2013, has captured authentic guest stories, warm introductions to their hotel, and more guests with their latest and most successful photo competition to date using Flip.to's advocacy platform for hotels. Running from June through September, the Beat the Summer Heat photo contest was designed to reveal new brand stories and compelling images from guests to complement Caribe Royale's existing marketing campaigns.
---
Success by the Numbers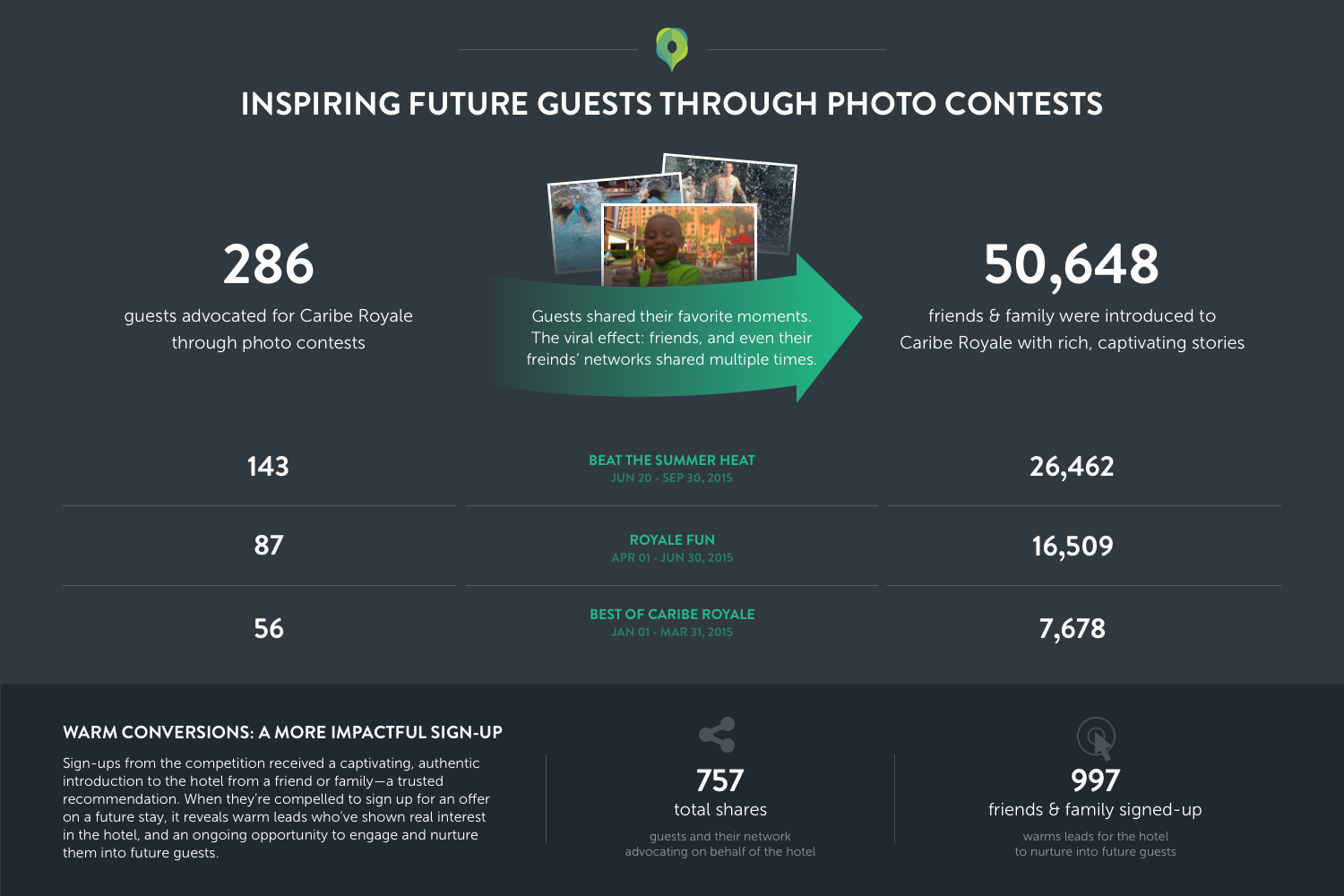 In a short three-month span, Caribe Royale received 143 finalists in the contest, each sharing the favorite moment of their stay with their networks to rally points. The effect was viral. Guests, their friends, and even their friends' networks were engaged to vote and share on behalf of the guest and the hotel. By the end of the competition, they together rallied an incredible 221,217 points, earned in ranges from 3 to 8 for different actions like voting or sharing.
More importantly, these engagements represent captivating, authentic introductions to the hotel through advocacy. According to a Nielsen report, 92% of respondents say they trust earned media (recommendations from friends and family) above all other forms of advertising—a fact apparent as nearly 500 of these visitors alone voted and signed up for an offer on a future stay, revealing warm leads who've shown real interest in the hotel.
To make them even more valuable, these sign-ups from the competition represent an ongoing opportunity to engage and nurture potential future guests, building brand affinity and driving long-term, recurring revenue for Caribe Royale.
As opposed to standard hashtag competitions—which are often riddled with image curation, attribution and usage rights pitfalls—Flip.to was built with the hotel's marketing in mind. Images and quotes are easily curated, sorted, and shared from the hotel's library. As a result, Caribe Royale was provided with an ongoing stream of authentic guest stories at their fingertips, with the ability to share across social media channels in just a few clicks.
Elyse Cottle, the Director of Promotions for Caribe Royale, spoke of Caribe's recent success, "Flip.to has taken the headache out of capturing, curating, and distributing our guests' incredible stories, saving our team countless hours. It's always a pleasant surprise to come back to the Flip.to platform and see how much content and reach we've effortlessly captured."
The competition was a resounding success, both for the guests and the hotel. Caribe Royale was recently recognized for a 2015 HSMAI Gold Adrian Award for their use of the Flip.to advocacy platform—a 'tip of the hat' garnered in addition to the unique user-generated content, outstanding reach, and warm introductions to potential future guests gathered using the platform.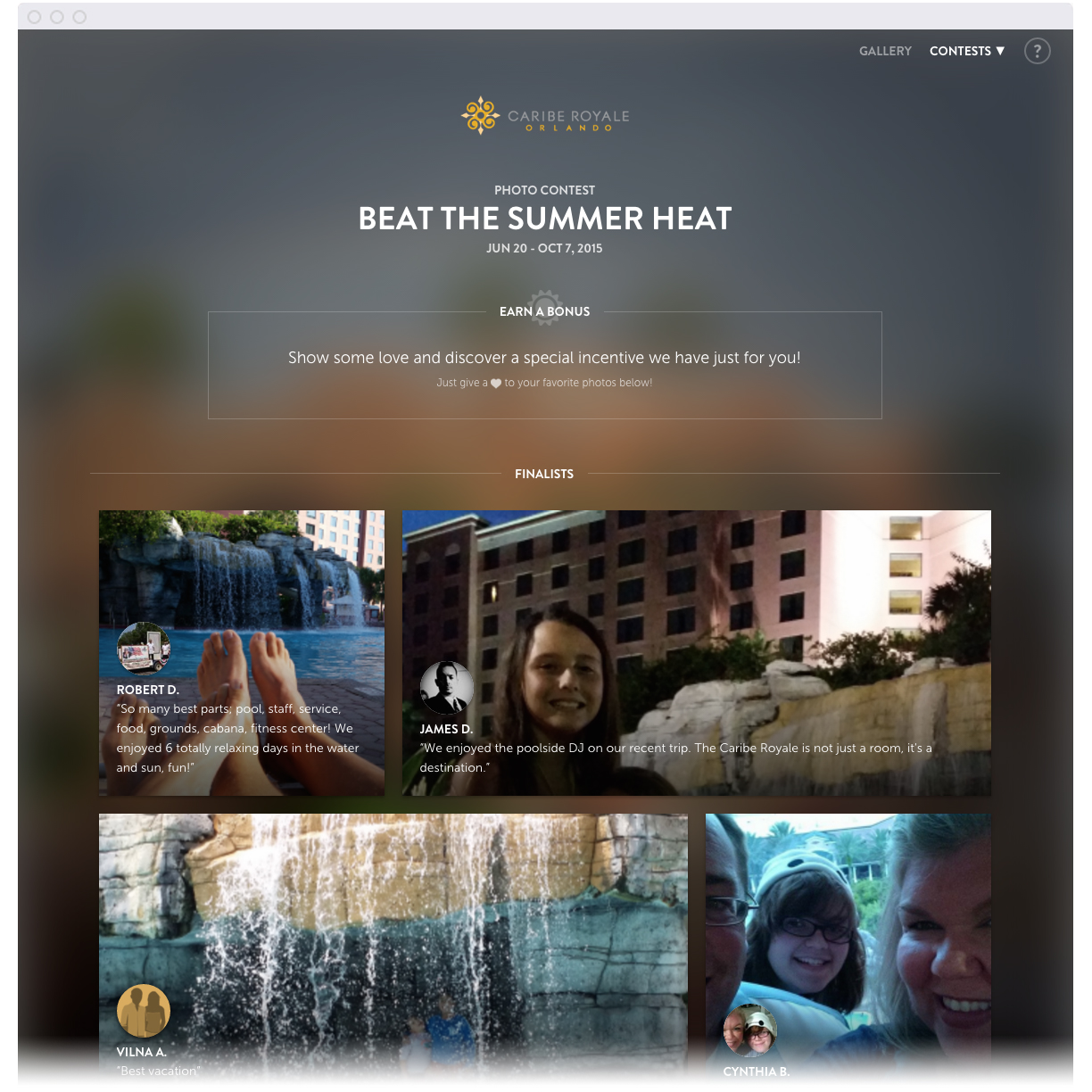 Recently debuting Photo Explorer, Flip.to is designed to make authentic guest stories, like those captured in the Beat the Summer Heat photo competition, an integral part of the hotel's story. The platform extends a hotel's ability to turn guests into advocates and create a huge impact on brand exposure and ROI.
Hotels may display their guests' favorite moments gathered during their photo competitions in a dynamic gallery, creating a truly personalized experience for every site visitor. This entirely new look at the hotel through the eyes of its guests is an incredibly smart platform, designed to convert curious on-lookers to future guests, and better communicate the personality and genuine guest experience of your hotel.
Advocacy: A Foundational Marketing and Revenue Strategy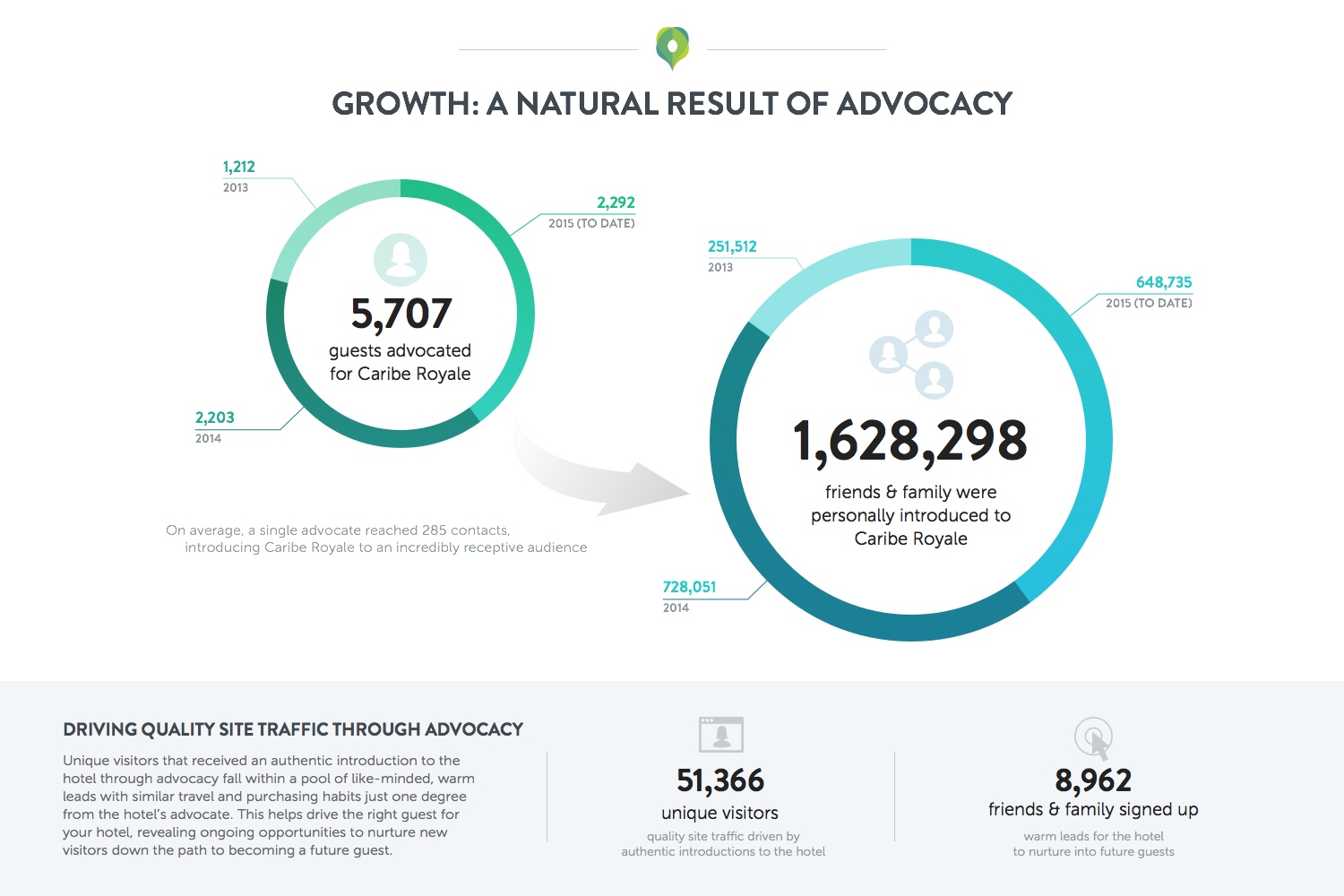 The impact of Advocacy has been felt throughout the marketing and revenue efforts of Caribe Royale. Since launching with Flip.to, Caribe Royale has reached more than 1.6 million of their guests' friends, relatives and colleagues, in addition to seeing a spike in traffic to their website.
"Advocacy transcends every aspect of a hotel's business, from marketing and sales to revenue management," added Edward St.Onge, President of Global Sales and Marketing at Flip.to. "Your hotel has the opportunity to increase direct bookings, build trusted brand connections and extend your reach to travelers across the world when advocacy becomes a core component of your hotel's overall strategy."
Flip.to has been key to Caribe Royale's success. The platform gives Caribe Royale's guests the opportunity to tell their story to the world, creating an ever-growing team of advocates who have a massive impact on their reach and bottom line.
---
Caribe Royale is an upscale, Caribbean-inspired convention hotel located just minutes from popular Orlando tourist attractions. To reserve a stay, visit www.cariberoyale.com, or contact Elyse Cottle at ecottle@cariberoyale.com.