A pair of eyeglasses is just a pair of eyeglasses. That is until it's a pair from Warby Parker. That's because, for every pair sold, another is donated to a person in need. Suddenly, everyone who buys a pair is part of an inspiring story–one that unveils something meaningful about each person.
In a world filled with an abundance of choices, an inspirational narrative is what sets brands apart. For your hotel, it's no different. Richer stories—especially those shared by your guests–can help you break away from the competition, and increase hotel revenue while you're at it.
How? Stories shape travelers' perception of value, urging hotels away from competing so heavily on price.
The science behind stories
Significant Objects was an experiment that studied the effect of storytelling on an object's perceived value. Each object, most of which people would argue were useless relics, was purchased on average for $1.25. The objects in total came to $128.74.
However, when paired with a compelling story written for each object by a pool of talented writers, all the objects sold bid-style for a grand total of $3,612.51—over 27 times more than what they were originally purchased.
It's clear that stories play an enormous role on perceived value to the consumer.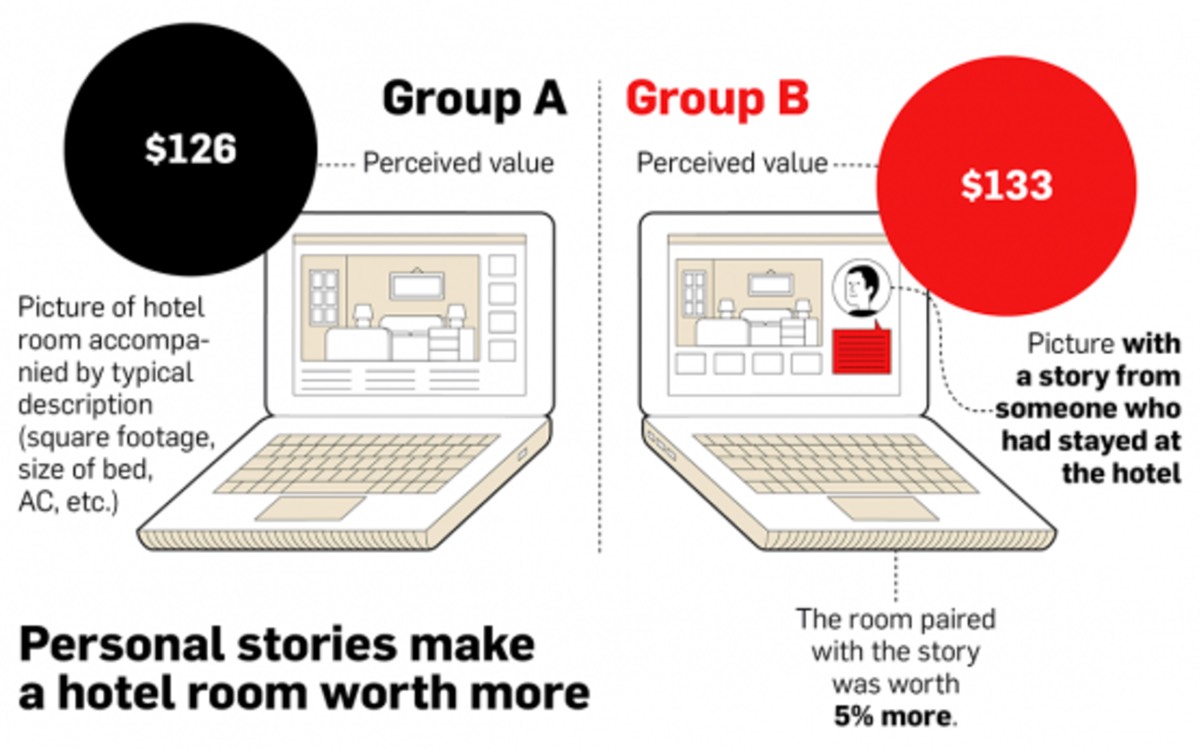 If that's not enough proof, a recent consumer study from Hill Holliday, an ad agency in Boston, found storytelling had a positive correlation on a hotel's room price. The room that was paired with a photo and story from someone that stayed at the hotel was worth 5% more than the same room with just typical accommodation photos and a description.
"Every time, the product that had a story pulled in more money than the same product without one. That's a lift on no additional investment."
Ilya Vedrashko, SVP and Director of Research at Hill Holliday's consumer research arm, Origin, summed up the study nicely, "Every time, the product that had a story pulled in more money than the same product without one. That's a lift on no additional investment."
Why stories sell
One reason stories sell is because they simplify social proof—the idea that if someone has made the decision to purchase, then you trust their opinion to get a greater sense that you're making the right decision when buying. In this case, the storytellers matter–this effect is even stronger when you know the person.
There are a ton of explanations why social proof is effective, but what does it look like for hotels?
Well, your guests already have a lot to say. Take this quote from Meredith, a guest of Hotel Wailea, that we featured in a recent Stories that inspire: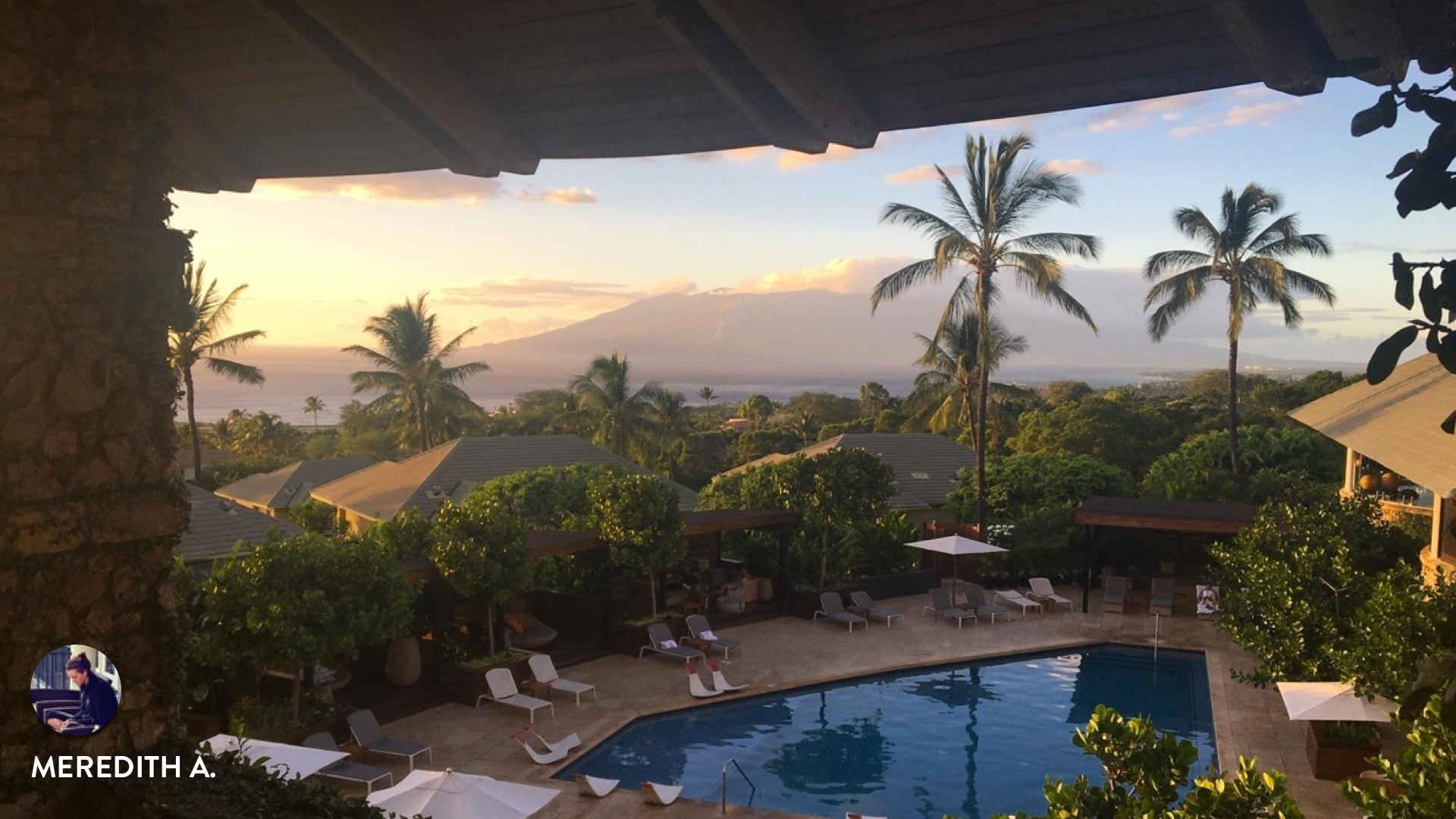 "Beyond the stunning grounds, the incredible food, the pristine rooms, and the delicious poolside drinks, all of which I'd give 5 stars, I'd find a way to give 6 stars for the staff and customer service.


When we arrived after a whirlwind wedding week in South Carolina, we were exhausted and ready to relax. Thanks to a helpful tailwind and minimal traffic, we showed up a little earlier than expected and were greeted with leis and huge, warm smiles.

When someone loves their job, you can tell in their demeanor, and it was clear from the start that everyone at Hotel Wailea loved their job. That says a lot about a place right off the bat. The staff suggested we head to the pool for a quiet bite and a drink while they finished up with our room.

As we looked over the edge of the lobby at the 180-degree views of the ocean, we were in heaven, and as the cool breeze off the ocean hit our face, so did a wave of complete relaxation. We had just gotten here, but it already felt like home." — Meredith A.
Quite the story, right? With impeccable service, stunning grounds, and a staff that made all the difference, it's no wonder Meredith had so much to praise. Even better, this incredible perspective started with a simple question, "What was the best part of your experience with us?"
From richer stories to a more profitable hotel
You've seen how telling a compelling story can help increase hotel revenue. Now, I'm not saying marketers should slap on a creative narrative to a cheap product just to charge more. But you should consider and play up what's unique about the experience at your hotel, and in doing so, you'll be able to steer clear from relying just on price to compete.
By tapping into what your guests already have to say, you'll be on your way to winning more business with authentic perspectives that your competitors can't touch.