A few months back, we shamelessly shared our first blooper reel after an excited foray into video production. It's been one heck of an experience and we've learned an awful lot along the way.
At Flip.to we're all about authenticity and the connections between individuals. So when we first committed to making video there was unanimous agreement that whatever it is we're talking about in our videos, it should be us talking about it.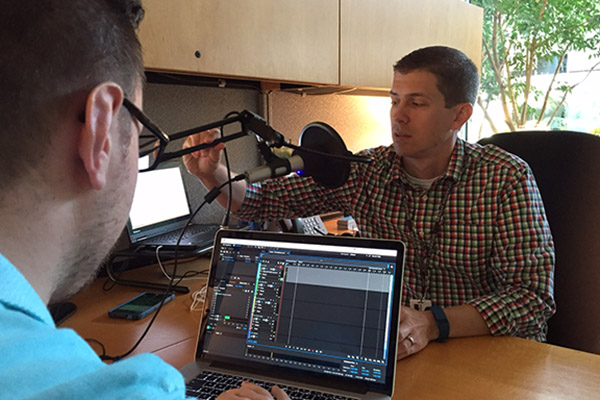 I was asked to be the voice of our videos. One never to turn down an opportunity (or a challenge), I was happy to take up the mantle. (To be honest I was more excited about recording impersonations, so I convinced myself this was a step in that direction.)
As fun as it's been, we've been focused on continuous improvement. If you're thinking of integrating video into your content marketing strategy (and you should), here are some major lessons to help you get started.
1. Spend time on a script…
Going into this, I was working under the assumption that we'd need some manner of script but, for the most part, we'd be winging it. It only took a single video to realize how wrong I was. We were using a script from the beginning. While we did adlib a bit, it was immediately apparent how important the script was.
This may seem like an obvious thing, but when you spend the better part of your day talking about a product, you feel confident enough you can do the same with a microphone in front of your face.
Don't bet on it–having a polished script ensures you're covering the important points.
2. …but don't be afraid to deviate
As critical as the script is, if you want the video to feel authentic and convey real emotion, you'll need to make changes on the fly. We'll record each section of the video multiple times to make sure it feels and sounds authentic and natural. The script isn't gospel. Instead, it's a guide to tie together the scenes and concepts in the video.
3. Record, record, and record again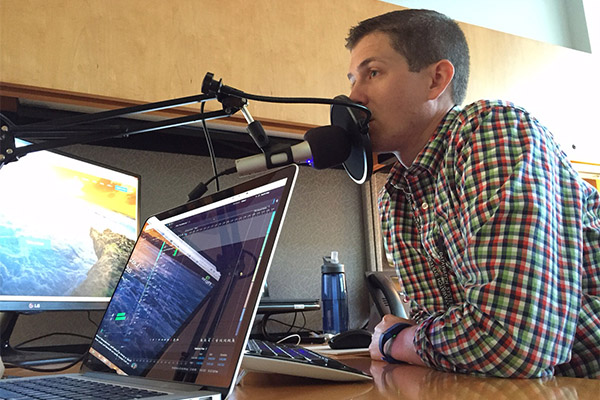 Getting a scene right on the first try is akin to keeping a wet dog in the bathtub. Try as you might, there will be slip ups.
Or, it just may not feel right. No matter how you feel after recording a scene, the playback may change your mind. In the beginning, we recorded a scene, played it back, and recorded it again—then repeated. We wisened up and now we record each scene a few times back-to-back and then listen in succession. Doing it this way lets you compare each attempt to single out the best take. If none sound good, well… do it again!
4. Finding the right voice and tone takes time
I don't mean to say you need to make a host of videos to find your voice and tone. Instead, I'm talking about finding the right tone for a specific video.
While recording our "Introduce your hotel to the people that matter most" video, we were about three-quarters of the way through the voice-over when we hit our stride. We wrapped up several scenes in quick succession and they felt incredible.
We went back and listened. It sounded noticeably different! The final 25% felt so right, that we took the time to re-record everything up to that point so that there was continuity. It was well worth the effort. Once we dialed it in we were able to record much more quickly too.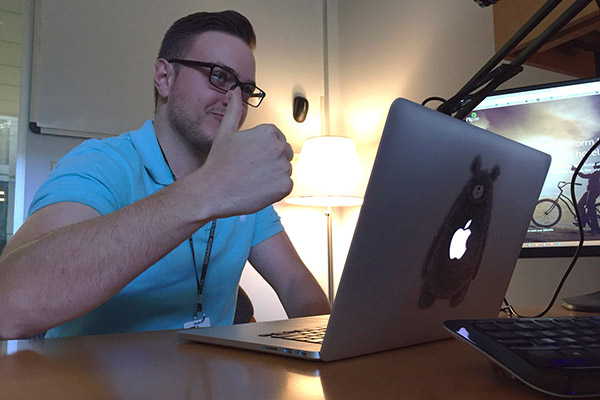 For future videos we recorded a reading of the entire script, sometimes multiple times, to get a feel for the tone. Ultimately this saved us time, produced a better quality video, and gave the video authenticity.
5. Have fun
It's not all business. You will definitely need to take breaks. We deviate from the script (sometimes by A LOT) because a good laugh can go a long way.
And like I said at the start, doing impersonations was what I really wanted to do in the first place. So don't hesitate to cut loose when the urge strikes and enjoy the moment. It's not often you get an opportunity to professionally record yourself cutting up for, you know, posterity.
Oh, and don't think we didn't save some of the fun stuff—listen in for yourself below!
Jumping into your own recordings? Let me know! We're always eager to share and learn more, and collaborate along the way.