At HITEC we collaborated with Google and GCommerce to discuss up-and-coming travel marketing trends. Hosted at La Louisiane of New Orleans Hotel Collection French Quarter fame, it was an incredible opportunity to share what's driving hospitality today. Guest experience, content marketing and personalization were the topics at hand. Explore more below from Chris Jackson, GCommerce President & Partner, and myself. Enjoy!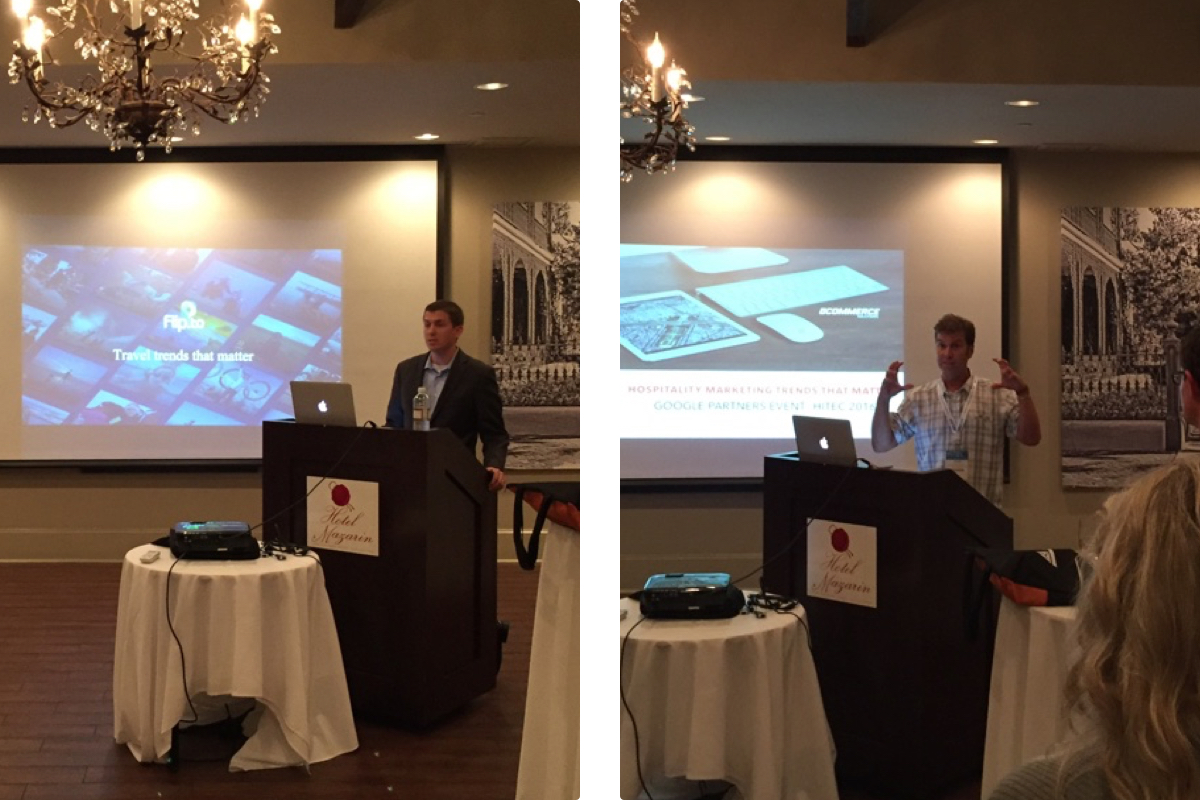 Travel Trends that Matter By Richard Dunbar, Flip.to Director of Partnerships
Hotels are facing a set of competing interests in the market that enjoy the benefits of large budgets, ability to scale, and share of consumers' attention. These competing interests have invested heavily in designing user experiences that keep consumers engaged throughout the planning process, ultimately converting more business.
OTAs and sharing sites such as AirBnB are spending massive amounts of money to capture and retain share of attention, driving interested shoppers into compelling experiences that are designed to convert.
To combat this, it's imperative that hotels focus their efforts to be in the places where OTAs and sharing sites are not strong. These are the low-cost, high-reach channels where hotels have a competitive advantage. The tools of that game are:
Guest advocacy
Nurturing past guests
Content marketing
Content marketing uses a hotel's intimate knowledge of the destination but combined with guest advocacy it can be massively amplified. Content can be crowdsourced, and the potential exposure can be exponentially magnified.
This also helps to address the precipitous decline in organic reach via social channels like Facebook. User-generated content, shared by the user, means hotels are able to reach an audience far beyond the typical means.
Combined, these strategies ensure hotels can reach and inspire guests at the right time and in the right way. Aspiration and experience are the key competitive advantages in today's market.
Hospitality marketing trends that matter by Chris Jackson, GCommerce President & Partner
Rising Cost per Acquisition
Phenomenal growth won't hide your rising cost per acquisition (CPA) any longer, so it is critical to understand and manage your CPA. How can you combat a rising CPA? Adjust your KPIs and the way you measure them:
Measure holistically
Measure on an attribution model
Measure from an online & offline perspective
Evaluate your data to see what works and what does not
Regain control of your inventory and pricing
Understand and determine your appropriate media mix
Predictive Analytics
Accurately predict customer behavior and buying patterns, and as a result, predict demand through Predictive Analytics.
Collective and shared data is far more powerful and useful than a single data report on a single hotel. Consider who you can partner with – airlines, golf clubs, spas, retail providers and your local tourism marketing board are all contenders.
Personalization
Connect with your audience! Focus less on selling your product and focus more on telling a story – sell the experience.
Micro-Moments
Billions of times per day, consumers turn to their search engine browser on their phone for "I want to know", "I want to go", "I want to do", and "I want to buy" moments. Be prepared and targeted in your marketing efforts for when your product is presented during a micro-moment.
---

GCommerce is a digital marketing agency that works closely with hotel, resort, casino and restaurant clients to develop everything from website design to social media campaigns. Be sure to visit their site to learn more about their services and explore their work.