Advocacy platform puts Madrid hotel at the center of conversations sparked worldwide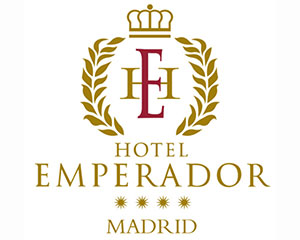 ORLANDO, FL — November 1, 2016 — Flip.to—a marketing platform that lets your guests become advocates to introduce your hotel and earn new guests—has helped Hotel Emperador Madrid amplify its reach to over 200,000 potential new guests. The four-star property in Madrid's city center has attracted an enormous network of potential guests from around the world, perfect for this classic European locale.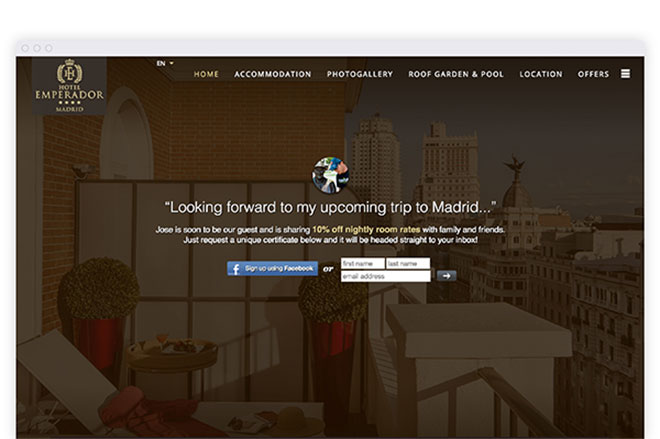 "It's so simple, and it works beautifully," noted Pilar Lanchas, Director of Sales at Hotel Emperador. Designed to be incredibly easy to manage, Flip.to earns and tracks new bookings while growing brand awareness, web traffic, and warm leads without any heavy lifting on the hotel's part. "We saw immediate impact, connecting a new audience seeking our unique Madrid experience."
More than a third of their guests have shared about their stay at Hotel Emperador since launching Flip.to in September of 2014. In fact, the hotel has reached an audience 40 times that of their already impressive Facebook network, earning trusted introductions to travelers worldwide perfect for their property—upwards of 200,000 travelers in the last two years alone.
In addition to the hotel's ability to amplify their reach to the perfect demographic, Flip.to has driven site traffic to the tune of of nearly 9,000 visits. Each guest was greeted by distinct, custom experience designed to convert, taking these personal introductions down the path to becoming future guests.
"With Flip.to, we've effortlessly grown the network of travelers we interact with on a daily basis," Lanchas went on to add. "The quality site traffic and warm leads we've converted give us the opportunity to inspire new travelers to choose Hotel Emperador when traveling to Madrid."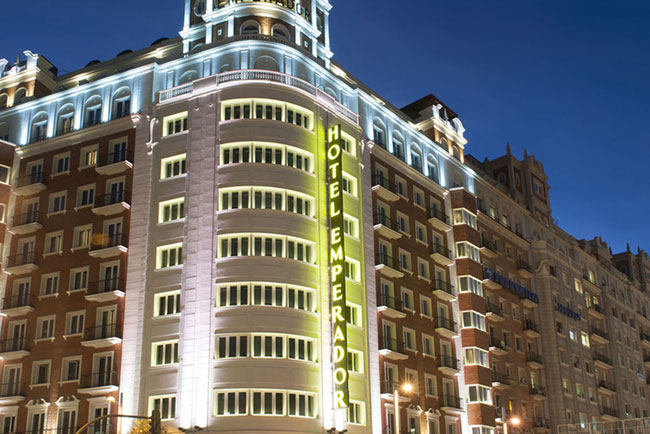 "We see the global impact of advocacy for hotels everyday. In fact, your guests have more influence than ever before in history," said Alfredo Moreno de la Santa, Director of Sales Europe for Flip.to. "Hotel Emperador and properties alike now have the ability to engage those influencers and let them share their travel experience to friends around the globe. Not only is the scale massive, but your hotel is at the center of those experiences shared."
Hotel Emperador Madrid is a 232-room, 1940s hotel perfectly located amid the bustle of the famed Gran Via Street in Madrid. This Ideal location in the heart of the city offers a splendid range of activities just steps away. Guests enjoy the beautiful rooftop garden and pool open during summer months, an abundance of restaurants, cafés and historical attractions to experience, and the rich culture of Spain's capital city. For reservations, visit http://www.emperadorhotel.com or call +34 91 547 28 00.